If you would have told me 10 years ago I'd be where I am today, I wouldn't have believed you.
In the last few years, I've experienced great change. In my work. In my life. Even where I live. As a former marketing coach and consultant, I never imagined I'd be able to retire early from my marketing business, move to the mountains, and follow my dream to spend my time writing, teaching online, and enjoying life.
The journey actually began more than 20 years ago.
I was in the midst of a successful career in marketing and advertising, when I realized I was burned out. The demands of my job weren't allowing me to be the kind of mom I wanted to be. 
For years, friends had told me I should start my own business. I'd always shrugged them off. Until I realized that was the only way I could create the life I truly wanted. It was time to step onto a new path. Little did I know where it would lead.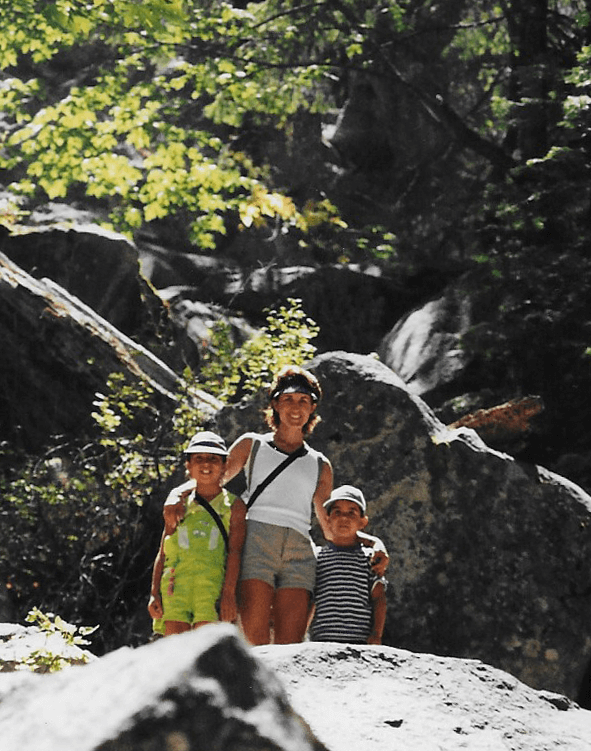 From Employee to Business Owner
My determination, resourcefulness, and compelling reason why propelled me to success, and within a year I was making more in my own business than I'd been making in my job. I had more time with my kids, and life was looking up. But after a few years, despite having created a six-figure, work-from-home, consulting business, I found myself chasing higher and higher levels of success. In 2009, I realized I could no longer continue on the path I was on. 
I decided to take a break. My heart was calling me to let it all go–not an easy thing to do. But I knew I had to. I made the decision to stop working so hard, and start doing what I felt inspired to do instead. 
No longer motivated to run my marketing coaching and consulting business, I realized what I really wanted to do was teach. I wasn't sure how to make that happen or what it would look like. But within one month an email landed in my inbox, inviting me to teach online. 
That was in 2013. Since then I've created 17 online courses and become a bestselling online teacher. 
Finding Meaning & Purpose
In 2012, a golden retriever puppy entered my life. I named her Hope and she has lived up to her name, big time. She led me into the most meaningful work I've ever done: volunteer pet therapy. With her, and my other golden retriever Faith, who is also a certified therapy dog, we have completed more than 500 pet therapy visits. 
Not only do I find great joy in pet therapy, it has provided perspective, and a sense of purpose I didn't even know I was looking for. I've made many dear friends. It even helped me find my tribe when my husband and I decided to retire and relocate across the country.
It started with a question. I'm not even sure where the question came from. It wasn't something I'd been thinking about, not consciously anyway. My husband had been pretty stressed at work for quite some time. I knew he wanted to retire. And deep down I was ready for a change, too. 
Perhaps that's what prompted me to ask him, "Would you sell the house and move to another state if it meant you could retire now?" His response? A resounding, "Yes!" We didn't take action immediately, but the wheels had been set in motion. Over the course of the next year, we decided to move, sold our house, packed up our lives, and left our family and friends, and the only city we'd ever called home, and moved from San Diego to Western North Carolina. 
The thing about following your dreams is you never really know where it will lead you. Leaving our home state and moving across the country was scary. But we did it because deep in our hearts, it felt right. And, we've discovered we feel more at home in North Carolina than we did in San Diego. In fact, we can't imagine being anywhere else. It's a beautiful and inspiring place to live and work. We never could have planned the life we have now. The only reason we have it is because we listened to that little voice, and trusted it.
On one of our scouting trips to North Carolina, I found a mug that read: Trust Your Wings, They Will Take You Far. 
I brought that mug home, as a reminder. I knew that as we were deciding whether to relocate, I'd have doubts. And, perhaps the reminder to trust would come in handy. 
As I look at that mug today, I realize that's what following your dreams is all about. Trusting your wings.  
Today, I live in a truly inspiring place. I'm doing work that's meaningful, enjoyable, and fills with me with a sense of purpose. My life looks nothing like it did 10 years ago. I owe it all to following my dreams. That's why I'm so passionate about helping others do the same.
4x Bestselling Online Teacher, and a Udemy Top Marketing Instructor, teaching people how to build a business and life they love.
Debbie LaChusa is an online teacher and author. After a 30-year career in marketing, including running her own business for 20 years, Debbie retired from her business in 2017 to focus on writing and teaching. She's a bestselling online teacher with more than 26,000 students in 169 countries. She's also the author of four books.
A pet therapy volunteer since 2014, Debbie has made more than 500 pet therapy visits with her golden retrievers, Hope and Faith. 
In 2018, Debbie and her husband relocated from the hustle and bustle of Southern California to the mountains of Western North Carolina, where they currently live on a mountaintop, in a home they've nicknamed The Treehouse. Debbie spends her time creating online courses, writing, enjoying the outdoors, and doing volunteer pet therapy.
Debbie teaches online courses on a variety of topics, including Business, Marketing, Branding, Sales, Mindset, and Therapy Dog Training & Certification. All of her courses are based on real world experience.
To learn more about Debbie, visit DebbieLaChusa.com